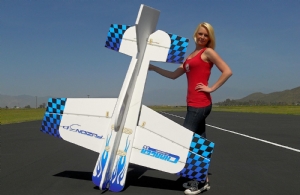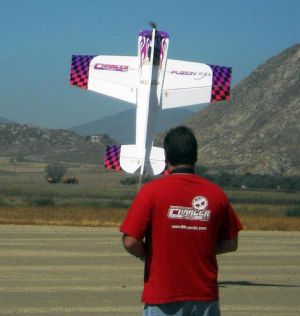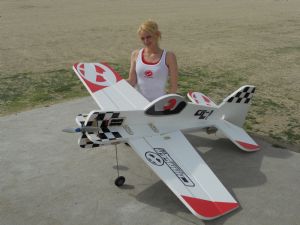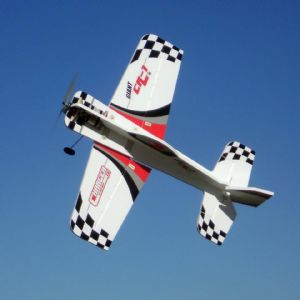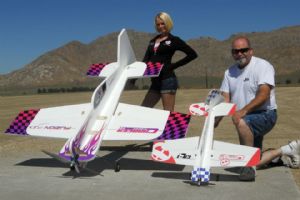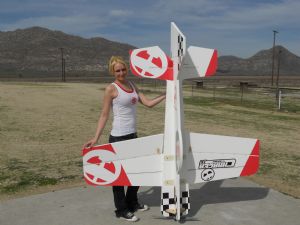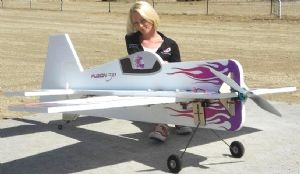 Giant Fuzion 3D Q&A
Everything you want to know about our Giant Fuzion
1.How big is "Giant"?
The wingspan is 73" and the plane length is 78".
2.What does it take to power the Giant Fuzion 3D?
(2) 4S or (2) 5S (total 8-10S) 5000 mAh 25C Lipo Batteries
(1) 85-100 Amp ESC
(Min.) Eflite Power 160 (6364) to (Max.) Turnigy 6374 200 kv Motor
(Depending on motor size) 20x10 – 24x12 size propeller
(4) Standard size servos with 175 in. oz. of torque (minimum) up to 230 in. oz. of torque for hard 3D flying
3.How much is the flying weight?
10.5lbs
4.How thick is the foam airframe?
1 inch thick
5.Do the wings come off?
Yes! We have designed a special wing joiner to remove the wings for easy transport.
6.What does the kit include?
* Foam Airframe
* Full Hardware Kit. We didn't go china cheap; this includes Sullivan, Dubro, Robart and Dave Brown products (wood pack, nuts, bolts, push rods, hinges, etc.)
* Landing Gear including 4 inch tires. Swinging a 24 inch prop, you will not want to catch this one.
* Sticker Kit
* Carbon Wing Spars
* Tail Wheel and bracket
7.Do the control surfaces come beveled?
You bet ya!
8.What is the suggested retail price of this kit?
$249.99
We took one of our top selling foamies, the Fuzion 3D, and enlarged it 100%. Unique to any other foamie we have designed before, this beast has a 73" wingspan with a length of 78". After a year and a half of prototypes and testing, the Giant Fuzion 3D was released last September (2011) and we have had nothing but excellent responses from our customers on craftsmanship and performance. We are also excited to see the awesome build/flight review that Electric Flight Magazine has done in there new issue (September
2012 ) Check it out !!
For links to customer videos and pilot demos, you can check out the "Videos" section of our website
Be s
ure to stop by and visit us on our new facebook page
The Giant Fuzion 3D is available for sale on our website. If you have any questions regarding this foamie, please don't hesitate to contact us by phone:

951-722-0727

or email:

chargerrcjay@hotmail.com